Frequently Asked Questions
Limousines are a symbol of luxury and elegance, and are often associated with special occasions such as weddings, proms, and anniversary celebrations. While hiring a limousine service can add a touch of glamour to any event, it can also be a daunting task. With so many limousine services to choose from, it can be difficult to know where to start. In this blog post, we'll provide you with a comprehensive guide to hiring a limousine service for your next special occasion.
Whether you're looking for a standard limousine or a party bus, we'll help you navigate the process and find the perfect vehicle to make your event unforgettable.
How We Overcome Common Black Car Service Challenges
The Challenge: Rude Service or Lack of Professionalism
Our Solution: We only employ highly experienced, courteous professional drivers who value safety, privacy, and professionalism above all else
The Challenge: Tardiness and No-shows
Our Solution: We show up on time, every time – no matter the occasion.
The Challenge: Difficulty Booking
Our Solution: Our seamless online booking process allows our clients to book a reservation with ease.
The Challenge: Safety Concerns
Our Solution: Safety is our number one priority – our passengers are precious. Our vehicles undergo a rigorous safety inspection between every ride, and we always take extra care during trips to ensure our vehicles are operated with utmost caution.
The Challenge: Unkempt Fleet
Our Solution: We are diligent about keeping our cars impeccable between rides. Our multi-point inspection process ensures that cars are always immaculate, inside and out.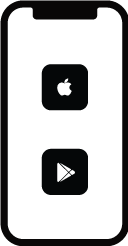 Have a personal driver at your fingertips no matter where you are with our easy-to-use smartphone app.