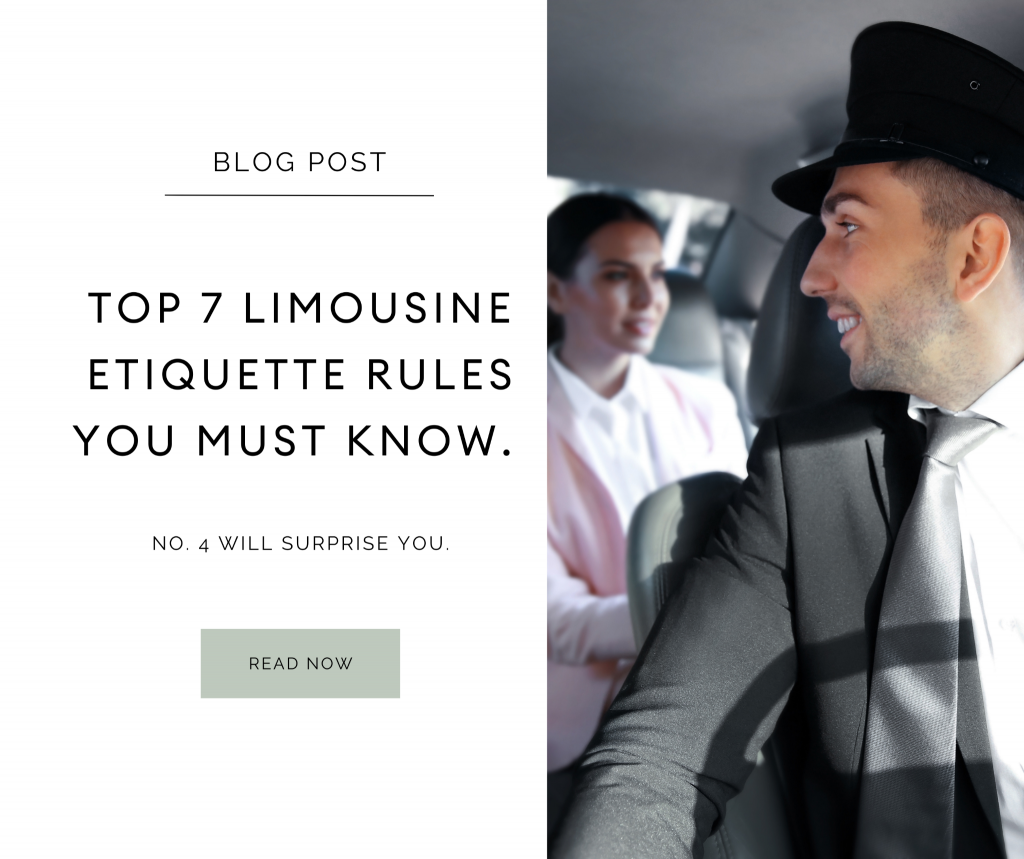 Who doesn't love a luxurious limousine ride? This ubiquitous addition in any special event, be it your birthday, prom, bachelor or bachelorette party, or wedding, is the best part of the event, right? 
But contrary to popular belief, there are specific limousine etiquette rules everyone must know. Coming to think of it, it makes sense. Like there are rules for your special event such as not wearing white as the guest if you're a woman for a wedding or not turning up drunk to any invited event. 
So, what about limousines? 
Well, this article has you covered what you should know before stepping into a limousine. 
The Do's and Don'ts of Riding In A Limousine 
When you're taking a limousine ride, there are certain limousine etiquette rules to keep in mind. These can be especially important to remember if you're using it for business purposes or representing your organization.
We discuss the limousine etiquette rules so you will have an elevated experience.
Book in advance and value time
When you book your limousine ride in advance, you're ensuring you'll have a car ready and waiting for you when you need it. This also helps to avoid any surprises or delays on the day of your ride. It also means you can reserve the vehicle of your choice from our limousine fleet.
Like with booking your limousine ride in advance, it's essential to plan for what you'll be doing during your trip. Knowing what you want to do and where you want to go will help ensure everything goes smoothly once you're on board.
Call and let the driver or the company know if you're running late. This is especially important if you have booked an hourly trip, where you are being billed per hour and the clock starts ticking from your pickup time. Even if you have chosen a point-to-point service, it's courteous to let the driver know if you are running late.
2. Be true to your guest count
You should be sure of the number of passengers who will ride in the limousine. Make the booking only when you're sure of your guest count. If the passenger count changes by any chance, inform the limousine service company so that it can allocate the best vehicle for a safe and comfortable ride for your party. 
Don't bring additional guests for the limousine ride if you've not made the booking for them. It'll be a hassle for the chauffeur and cause delays for your special event. Intimate any additions to the guest count to the limo service company in advance. 
At Rioja Limo, we're proud to offer high-class limousine services for your requirements. Inform us in advance about your travel itinerary and the guest count at your party. We understand and accommodate last-minute changes. All you have to do is to keep us informed and updated on the number of passengers you expect.
3. Respect your Chauffeur
At Rioja Limo – the best limo rental services in Chicago, we treat our employees as family and we expect the same from our clients. 
Be respectful of your assigned chauffeur by greeting them when they arrive, talking politely with them, and trusting in their experience by asking queries related to the service, and letting them do their duties. If you have any concerns about them, inform us immediately, but don't take it out on them. We'll do our best to provide you with an exceptional experience with Rioja Limousine.
Our chauffeurs are highly experienced professionals who love their jobs and are enthusiastic about helping you with your ride. Communicate all your queries with them and they'll be happy to assist you. 
Entering and exiting the limousine on your own is a sign of disrespect for your chauffeur. So, allow your chauffeur to open the doors for you and your party. This is a part of their job which they take seriously.
It's also an important aspect of safety, and not just etiquette alone. They know the route well, the current traffic situation, where the other cars are, and when it's safe to open the door for you. 
Tipping your chauffeur discreetly is another sign of showing respect to them. The standard tipping rate of 20% is customary. You can choose to include it in your limousine rental fee or offer the same to your chauffeur in person by placing the amount in an envelope upon reaching your final departure point. If you choose not to tip, inform the same and state the reasons to your limo service company.
4. Learn how to enter and exit the limousine gracefully
Yes, there's a proper way to get inside and outside of the limousine for ladies and gentlemen. 
First things first, never enter or exit on your own. Wait for your chauffeur to open the door for you. The whole point of riding in a limousine is to feel pampered and like royalty. 
Next, learn the right way to enter and exit. Don't hop or stomp inside the limousine and duck your head down with your back poking out of the door opening. It's awkward not just for you, but also for the onlookers. 
For women, mimic a mermaid when you get in and out of a limousine. Turn your back to the door opening and place your bottom on the nearest curbside seat. Keep your legs glued together like a mermaid's tail and pivot them inside the car after sitting down. When exiting, do the opposite. You'll put your legs together like a mermaid and let your legs come out of the car and then stand up to get out of your limousine. 
For men, even though the general etiquette is "ladies first", it's preferable if you get in first and then have the lady get inside the limousine. This is practical, especially if the woman you're traveling with has a big dress. Also, when exiting the limousine, gather all your things like a briefcase, and then get out of it instead of reaching for it after getting out of the limousine. 
During your limousine ride, don't open the emergency hatch, open the window, and stick your head out. Stay inside your limousine until you reach your destination.

5. Reserve the best seats for your guests of honor 
If you're paying for the limousine rental service, you can decide the seating arrangement for your party. You can opt to sit in the best seat or reserve them for your guests of honor. 
Certain spots in a limousine are considered the best seating areas for VIPs: the curbside and far right-side seats facing forward in the primary passenger area of the limousine. The less preferred seating spots in the limousine are the middle seats between these seats and the backward-facing jump seats. Don't make your guests of honors seated in these seats. 
But if you're not paying, choose the seats not reserved for the VIPs.
6. Take safety and civility seriously
It's important to have fun, but it's even more important to be safe during your event. If you're the host, ensure that you keep the party tame and not out of control. 
Refrain from any illegal activities that can get you, your party, and the chauffeur into trouble. Do not smoke or have drugs inside the limousine. Some leisure limousine services in Chicago might permit smoking and drinking after getting approval or consent from it. If you're the host, you can offer drinks to the passengers provided you got the approvals for the same. Make sure everyone's got identification, so you're on the safe side of the law. If you're not the host or have rented the limousine, don't go to the bar supplies without being invited. Instead, wait for the host to give their approval to do so. Also, do not carry your own alcohol bottle inside the limousine. 
Also, if you're the host, make sure the passengers are not too intoxicated or get into ugly fights inside the limousine. These can lead to potentially dangerous situations that can harm others, apart from it being poor etiquette. 
Keep a watch on any passengers who might get so intoxicated that they poke their heads outside the roof safety hatchet or the windows. Make sure that everyone's following the safety rules in the limousine. 
Do not request your chauffeur to ride faster than the speed limit or if you can ride it or make additional personal stops on the way. 
The number one rule of limousine etiquette is to always take safety seriously. This means following the driver's instructions and staying seated with your seatbelts fastened until you reach your destination. It might be tempting to stand up and get a better view but it can get dangerous even though limousines are large vehicles. 
Other than that, follow the general civil rules as no talking loudly or shouting while riding in the limousine.
7. Keep the limousine neat and clean 
We buy expensive, custom-made limousines and invest in keeping them in excellent condition for our clients. We expect our clients to respect the same and maintain the limousine in the best condition while they ride in it. 
Don't litter the limousine by spilling food and drinks or leaving your belongings there. These can stain the interiors and ruin them as well. So, try not to damage anything while you're inside the limousine. 
So, no jumping on the seats or anything like that. No leaning on cup holders, the wet bar, or stuff like that. Refrain from putting up your feet on the seat as it can damage the upholstery. Also, take nothing that belongs in the limousine out of the vehicle, such as glassware and other items. These are the property of the limousine rental company.
Keep the limousine as pristinely clean as you first entered it when you leave it. Always check your limousine when you first enter it and exit it. You can take a picture for reference. 
If you have any concerns or are struggling with something, please check with your chauffeur or our team immediately. If there are any damages, we may charge you for the repair bills and the mess. 
Book Your Next Limousine Ride at Rioja
If you're looking for a pleasant and safe enjoyable ride,  we can help you. Our team of professional, courteous, and expert limo chauffeurs at Rioja Limousine is here to ensure your safety and that you enjoy your ride with us. Book a ride today and experience our service for yourself!