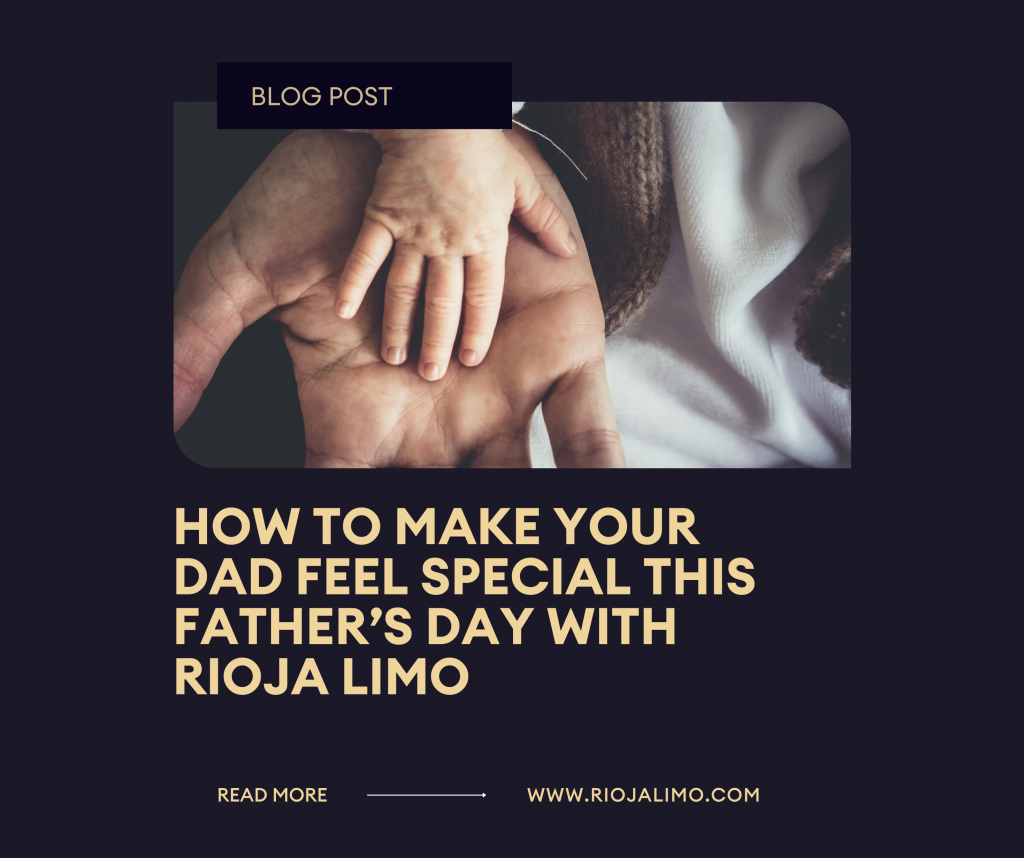 Fathers are special in every way. A father is the first love of a daughter and the first hero a son would want to follow by example. 
Father's Day is a celebration of our fathers and their sacrifices and contribution in shaping us into the individuals we are. Some of us might shop for special gifts for our fathers or plan special events to celebrate Father's Day. That Chicago has a lot to offer for Father's Day celebrations gives you several options to pamper your dad. 
However, whatever your plans for Father's Day, make sure not to let your dad drive your family around. Especially if your Father's Day event involves any alcohol consumption. Invest in everyone's safety by hiring the best limo services in Chicago. When you ride with Rioja Limousine, your family will enjoy the professional driving skills of a highly trained chauffeur; the style and elegance of a luxury limousine, sedan, or SUV; and the peace of mind of knowing that all you have to do is show up and enjoy the day. Let your dad relax and enjoy this Father's Day. 
Meanwhile, we discuss some wonderful ways to celebrate Father's Day this year. You might want to make some notes. 
How To Celebrate Father's Day in Chicago
Father's Day is a tradition that celebrates the importance of a father's role in raising a child, individual, family, and society. 
Let there be no holds bar for celebrating the first man in your life. If dad's the type of person who loves to have a good time and values experience more than material gifts, Chicago has everything you need to host a memorable Father's Day.
Here are some fun events for Father's Day this year in Chicago and its surrounding areas.  
You can also enjoy a memorable meal at your favorite restaurant in Chicago, cruise the Chicago River, and enjoy local brews, among other fun things to do in Chicago. 
Make it a special Father's Day with a classy Rioja Limousine
Not all heroes don a cape, and this is true for fathers. Rioja Limo, Chicago salutes each of these superheroes.  
Renting a limousine for Father's Day in Chicago is present your dad will never forget. He's bound to feel loved and appreciated as there's no better feeling in the world for a dad than knowing his family loves him dearly and recognizes all his sacrifices.
So give your darling dad a break and hire your own personal chauffeur for the day. Our limo rates are very affordable and flexible, making this service available for all. We serve all of the Chicago area and surrounding areas. 
We can pick your dad up from home and take him whether you think he would like to go. Whether it's a surprise day out with his mates or a family outing to your favorite destination, one thing is sure, he'll feel like someone really special relaxing in the back of a Rioja Limousine. All you have to do is decide on your dad's favorite activity and let us know. We will treat him to a royal welcome.
Book your limo early to avoid disappointment and be sure to let us know if you have any special requests. Our chauffeurs are very knowledgeable and can offer a handful of advice and suggestions – helping you make this Father's Day the best one yet!
With Rioja Limousine, you can travel worry-free. Let us know when you want to surprise your dad (with a luxury limo ride, perhaps?) and we'll be right at your doorstep.
Happy Father's Day to all the amazing dads from the best limo services in Chicago – Rioja Limo.