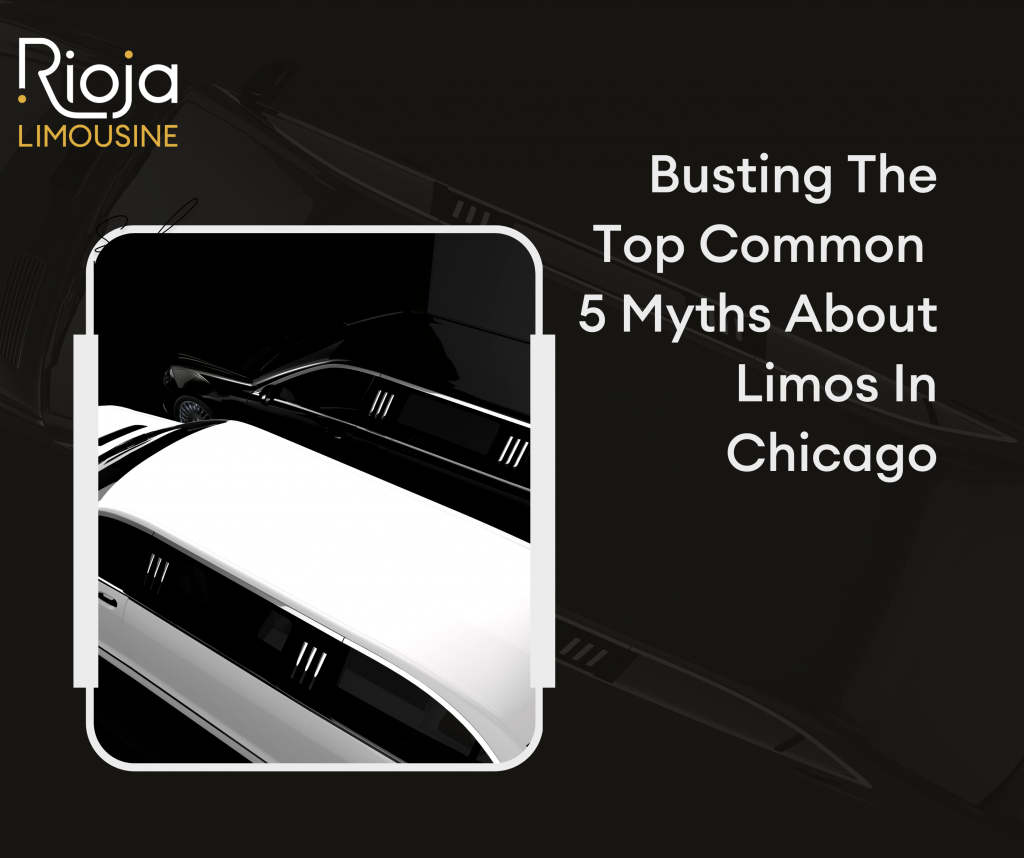 The iconic black limousine is a symbol of wealth, sophistication, and prestige. 
Thanks to the pop culture reference in movies and television, there are more myths reinforced around limousines. As a result, we have some people who shy away from renting and riding in it. 
Here are the most common myths we debunk in this article.
They're only for certain groups of people
There's a misconception that limousines are only for certain groups, such as celebrities or businesspeople.
Limousines are for everyone and anyone who wants to travel in luxury, safety, and comfort.
For example, there's a misconception that children cannot travel in limousines. But the City of Chicago permits young children to travel in a limo with a car seat. So, children can safely ride in a limousine and enjoy the amenities such as TV and dining in the vehicle. Children, however, cannot book a limo on their own and need someone 18 or older to manage the booking for them. 
Hiring a limousine is expensive
This myth may have been prevalent because limo companies use high-end luxurious vehicles. 
Nothing could be farther from the truth as limo companies charge by the hour and point-to-point. The pricing varies according to the model, time of the booking, and destination.
A limo service company offers you more flexibility with reasonable rates at a flat price or per service option compared to booking a cab. The booking process for a limo is transparent and the entire trip is calculated and charged ahead of time. 
If you're traveling in a large group and the expenses are shared, then the limo ride could actually work out to be cheaper than a cab ride.
What makes hiring a limo a steal is the accompanying amenities you can enjoy during your ride. For example, Rioja Limo offers a professional chauffeur, luxurious interiors, free Wi-Fi, TV, charging points, television, GPS, sound system, party props, and more.
Limousines are only for special occasions
You don't need to wait for a special event like a wedding, prom party, birthday, or other milestone to book a limousine. 
You can book a limousine for any reason, be it a ride to the airport, taking your children out for casual sightseeing around town, or simply indulging yourself by using a limo service to reach your office in style. 
You don't need to wait for life to get special to book a limousine. Bring the special in your life by booking a limousine and pampering yourself and your loved ones. You're allowed to celebrate life in all its moments with your hard-earned money. 
They're for short trips only
The truth is limos are built for long-distance travel. That's why you have ample leg space, food and beverages, luxurious and comfortable seating and interiors, entertainment, and more. 
Reputed limo service companies provide you with professional chauffeurs who can drive on all roads and distances. They undergo rigorous training and education to get their special chauffeur's license. They also have to keep updating themselves by attending future training to ensure their comfort and safety during a limo ride. The chauffeurs can get you to your destination as they know the best routes to avoid traffic congestion. 
So, you can ride in a limousine on your long highway road trips from city to city and short city trips. Book a Rioja Limo for your next long trip and experience the difference.
You cannot easily book limos as they're not easily available
There's another perception, especially among older adults who're not digitally savvy, that booking a limousine is difficult, as they're usually unavailable. 
The fact is that at Rioja Limo, limousines are readily available any time of the day for any purpose. We are also flexible in our booking time allocations and offer various packages to suit your requirements. 
Booking at Rioja Limo is simple and convenient. You can call us at +1773-948-1028 or book online on our user-friendly website. Our limos are just a call or click away. 
Not all limousine companies are the same
The biggest myth of all is that all limo service companies are the same. 
At Rioja Limousine, we're all about making your life easier and excelling in every aspect of your luxury transportation experience. Our dutiful drivers, a pristine fleet of luxury vehicles, and VIP-level customer service set us far apart from the competition. We've set the new standard for private black car services in Chicago.
Book with us at +17739481028.