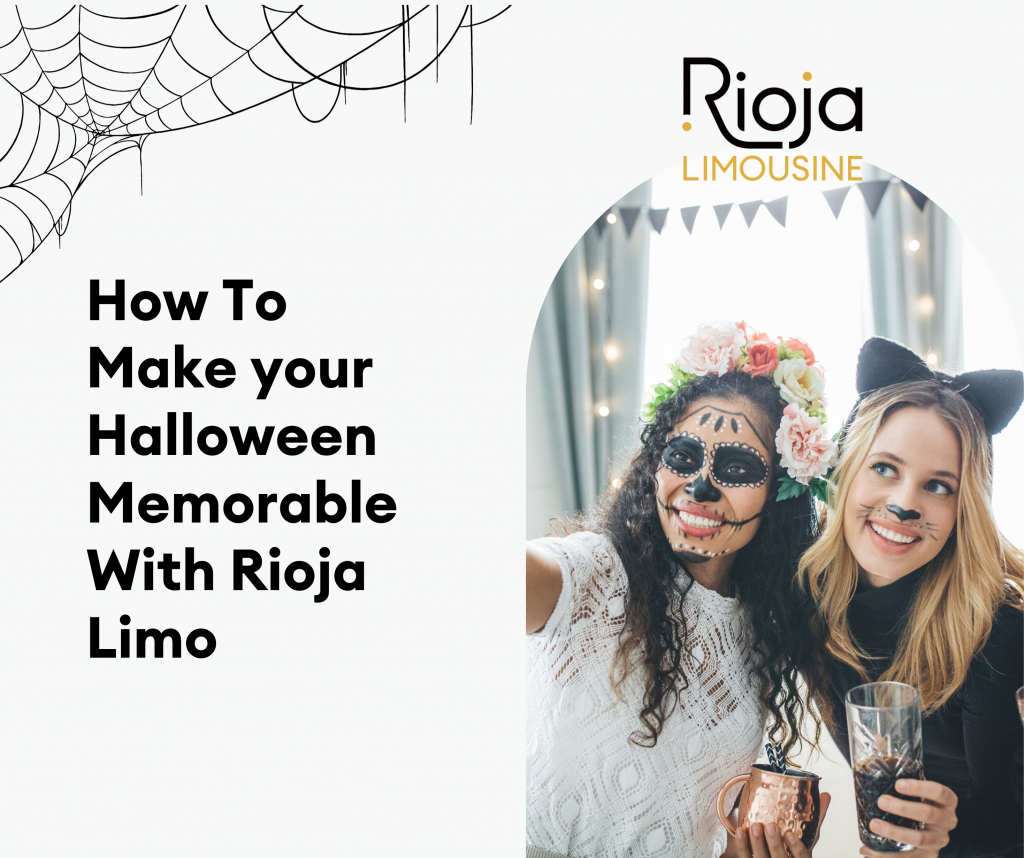 Halloween is TODAY! It's time to unleash your fun side and gather with your loved ones and make merry.
Why not add a twist to this year's Halloween? Imagine being dressed as Dracula, Barbie, or any of your favorite pop culture icons and making a statement with a Rioja Limousine for the Halloween party in Chicago. 
Not only will it make a bold and memorable statement as you arrive in style, it's also practical to hire a Rioja Limousine.
Hiring the best limo services in Chicago is the best decision to arrive at your Halloween party. Everyone can be together, and relax in costume instead of riding in their separate cars. No one has any nightmares about problems such as parking woes, their costumes getting ruined while traveling or being pulled over for a DUI (Driving Under the Influence).
A Rioja Limousine can accommodate big groups by taking them to their Halloween party destination safely. Get ready to be treated like royalty this Halloween as our professional chauffeur drives you to your desired destination. Our chauffeur will pick you up from your venue, drive you around town, and drop you off at your desired party destination. You can easily share the ride with your friends or party group all decked in your costumes and they can share the expenses, too, making the ride even more affordable for you. 
At Rioja Limo, you are spoilt for choice when it comes to choosing a limousine from our fleet to suit your party theme. 
Rioja Limousines make the perfect choice for your Halloween parties, be it for kids, teenagers, or adults. Children and teens accompanied by their parents or adult guardians can enjoy the party with their friends to the hilt. As a parent, you'll have peace of mind that your children are in safe hands. 
In fact, why wait until you get to your destination to have fun? Your Halloween festivities begin once you step into our limousine on the way to your party. Sit back on our cozy leather seats and enjoy a  smooth comfortable ride.
Rioja Limo Is A Treat For Your Halloween Party
Your Halloween party planning should include a top-rated limo service in Chicago like Rioja Limousine. 
All our limousines are meticulously maintained, super clean, and ultra-safe. We regularly inspect our vehicles to ensure they have no mechanical issues.
Our chauffeurs have 100% clean DMV records with no DUI offenses. They are courteous, prompt, professional, and highly knowledgeable of the Chicago area. No matter the time of your Halloween party, your Rioja Limo chauffeur is happy to serve you.
Travel in utmost comfort with our Rioja Limo services and enjoy your special Halloween party with your loved ones. At Rioja Limousine, we are committed to ensuring that you and your guests have great fun and an enjoyable stress-free ride. So, dress up for your Halloween party and leave the driving to Rioja Limo. 
Make sure to book ahead of time as we get filled up fast. We accept various modes of payment. 
Call Rioja Limousine at +1 773-948-1028, email abel@riojalimo.com, or book your Halloween party ride here.